Thu
Max: 12°C
Min: 10°C
Fri
Max: 12°C
Min: 9°C
Sat
Max: 12°C
Min: 6°C
Entertainment supplied by
No charges for Russell Crowe over alleged assault of rapper Azealia Banks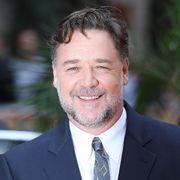 In October, the 25-year-old rapper accused Crowe of grabbing her by the neck, spitting on her and being racially abusive, before throwing her out of a party at his Beverly Hills hotel room.
The Gladiator star denied accusations, saying it was Banks who was verbally and physically abusive to other guests, forcing him to throw her out.
Witnesses at the party corroborated Crowe's version, saying the 52-year old was protecting his guests.
Banks came to the party uninvited, as a guest of rapper RZA - who starred alongside Crowe in The Man with the Iron Fists.
At the time, the Wu-Tang rapper publicly apologised to Crowe and wrote on his Twitter page he was "embarrassed" by Banks' "insulting behaviour" towards his guests.
Banks responded to RZA, saying the rapper was "stupid" after "years and years of smoking dust", and promised to press charges against Crowe.
On Thursday, the Los Angeles District Attorney's Office said it would not be seeking to prosecute Crowe.
"Witnesses state that prior to being ejected from the hotel room by Crowe, Banks repeatedly used a racial epithet, was verbally aggressive to party attendees and threatened to break a glass to cut the throat of a female guest and/or Crowe," prosecutors said.
"Guests report after this threat was made they saw Crowe struggle with Banks to prevent Banks from using the glass she picked up, seemingly to carry out her threat," they added.
"It was then that Crowe escorted Banks out of the room."
The report also stated Banks was "likely impaired by alcohol and/or drugs", and "had no visible injuries".
A spokesman for the district attorney's office said it had not investigated Banks as a complaint had not been filed against her.
© Sky News, 2016