Thu
Max: 12°C
Min: 10°C
Fri
Max: 12°C
Min: 9°C
Sat
Max: 12°C
Min: 6°C
National News supplied by
MP Michelle Thomson relives teenage rape ordeal in the Commons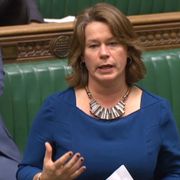 Michelle Thomson said she was "a survivor", not a victim as she told the House of Commons the details of her ordeal.
The Independent MP for Edinburgh West shared her story during a Commons debate on UN International Day For The Elimination Of Violence Against Women.
She was comforted by former SNP colleagues at the end of her speech, with Speaker John Bercow visibly moved.
Ms Thomson told the debate she was 14 when she was attacked by someone she knew on the way home from a youth event.
The MP said her attacker told her he wanted to show her something "in a wooded area".
She said: "I did have a warning bell - but I overrode that warning bell because I knew him and therefore there was a level of trust in place.
"To be honest, looking back, at that point I don't think I knew what rape was. It was not something that was talked about.
"It was mercifully quick and I remember first of all feeling surprise, then fear, then horror as I realised I quite simply couldn't escape - because he was stronger than me, and there was no sense even initially of any sexual desire from him, which I suppose, looking back, again I find odd."
Ms Thomson said her senses were "absolutely numbed", telling MPs: "Thinking about it now, 37 years later, I cannot remember hearing anything when I replay it in my mind."
She said that afterwards she walked home alone crying and shivering in shock.
Ms Thomson said she did not tell anyone about the attack at the time, saying she felt "ashamed".
She added: "I felt I was spoiled and impure and really felt revulsion towards myself.
"I, of course, then detached from the child up to then I had been.
"Although, in reality, at the age of 14 it was probably the start of my sexual awakening, at that time, remembering back, sex was something that men did to women and perhaps this incident reinforced that early belief."
© Sky News, 2016