Fri
Max: 22°C
Min: 15°C
Sat
Max: 19°C
Min: 13°C
Sun
Max: 20°C
Min: 12°C
National News supplied by
Syria: Maternity Hospital Bombed In Idlib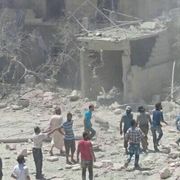 The building suffered a direct hit earlier today and was extensively damaged and is now barely operational as a result, according to Save the Children, a charity which supports the hospital in the town of Kafar Takharim.
Around 1,300 women and children are treated by the hospital each month, as it is the only maternity facility for about 70 miles, a spokesman for the charity said.
There were 340 babies delivered there last month.
Alun McDonald, Save the Children regional media manager, said: "There are initial reports of some casualties among patients and staff, although numbers are so far unconfirmed."
The Syrian Observatory for Human Rights said the air strikes also hit a civil defence building nearby.
The group quoted local sources, saying that a jihadist was killed in the raid
Group head Rami Abdel Rahman said: "It was him that was targeted. He went to visit his wife who had just given birth when the bombing happened."
They did not say whether the strikes were carried out by the Syrian regime or the aircraft of its Russian allies.
Further strikes in another part of the province's countryside killed at least five people and seriously injured more than 25, they added.
In February, the charity Medecins Sans Frontieres published a report saying women and children made up 30-40% of casualties recorded in its Syrian facilities in 2015, proving civilian areas are consistently being hit.
MSF also slammed the "catastrophic" impact the war has had on medical personnel and infrastructure, claiming there were almost 100 attacks on MSF-supported clinics last year alone.
The report came a few days after at least 50 people were killed when alleged Russian airstrikes hit civilian targets, including an MSF-supported hospital.
© Sky News, 2016