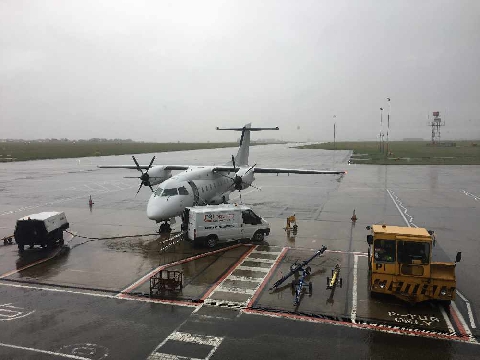 Loganair has announced proposals to close its operational base at Norwich Airport where 44 of its staff are based.
They revealed the proposals today, 3rd December, following formal consultation discussions this week with their team of pilots, cabin crew and engineers at the base.
The airline said the aim of the discussions is to minimise redundancies by offering positions in other parts of the Loganair network if the proposal was to go ahead.
It would continue to operate from Norwich to Aberdeen, Edinburgh and Jersey, using aircraft and crews from it Scottish bases from February onward.
Jonathan Hinkles, managing director of the airline, said: "It's with sincere regret and a heavy heart that we have to outline proposals to close our operating base at Norwich.
"It's a hugely disappointing outcome following the tremendous hard work earlier in the year to transition our Norwich crews and engineers to the Embraer jet fleet."
"Formal consultation discussions will commence this week with our Norwich staff.
"We will be working to minimise redundancies through offering deployments at alternative bases and we hope that these colleagues will stay with us, but it is recognised that some members of the team may not be able to take up such offers and thus sadly some redundancies are likely."
Jonathan said the major reason for the Norwich closure proposals is due to a lack of improvement in passenger numbers on the route to Manchester following the introduction of Embraer jets earlier this year.
If the plan goes ahead, the Norwich to Manchester route will close on 5th January.
He continued: "It is beyond disappointing that we have arrived at this decision, but the financial implications left us with little choice."
"However, we are pleased that we are still able to operate the very successful Jersey service for summer 2020 but do recognise customers will be disappointed that we are unable to start the new Newquay service as planned for next year."
Brian Strutton, the general secretary of British Airline Pilots Association, said to us: "We were disappointed to learn that Loganair's Norwich base is closing, and as a result some employees will face relocation or redundancy.
"We are working with our members to support them through this tough time and will try to limit the disruption this will cause them."
We have contacted Norwich Airport for comment.