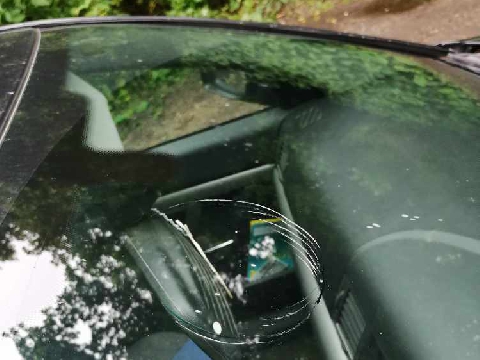 Almost 50 cars have been damaged by thrown objects since 24th May (Yasmin Ismay).
Police are appealing for information following a large number of incidents where cars have been damaged by items being thrown from passing vehicles.
They received their first report on 24th May, and have since been flooded with reports of similar incidents with the latest being reported on Tuesday 11th June.
Vehicles travelling along roads in various villages and towns in and around the A146, A143 and B1062 have been targeted by offenders throwing rocks, stones or bricks from a passing vehicle.
The latest report involved a patient transport ambulance at around 7.15pm on Tuesday, where a large rock or stone was thrown as it travelled toward Bungay from Halesworth. No damage was caused to the vehicle in this incident, and no patients were on board.
On the same day, 21-year-old Yasmin Ismay from Bungay was travelling along Old Beccles Road to pick up her child from Nursery, when a rock was thrown at her vehicle causing damage to the windscreen.
She said she's thankful her child wasn't in the car at the time: "It scared me, I thought it was lucky it was not on the way back because I would have had my kid in the car.
"They're going to end up causing an accident, it was hard enough to keep my car on the road."
She continued: "It's just so unnecessary and if they're doing that, what else are they going to do?
"If it's gone from doing it at night time to now doing it all the time, what happens when they get bored and they do something else, or something worse."
Officers from both Norfolk and Suffolk police have been carrying out a number overnight patrols and are exploring the possibility that the incidents are linked.
A spokesperson for the police said: "Anyone who has been a victim, or has any information about these incidents or who may have dash-cam footage is asked to contact PS Mark Sargeant at Suffolk police or PC Andy Barkway at Norfolk police."
If you have any information, contact 101 quoting crime reference number 37/32365/19.