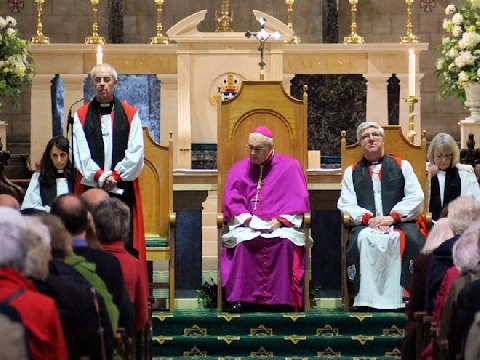 The Archbishop of Canterbury speaks at an event in Norwich - picture credited to the Archbishop of Cantebury's Twitter feed
The Diocese of Norwich has received high praise from the Archbishop of Canterbury during his visit to Norfolk.
The Most Reverend Justin Welby held a special interfaith talk with fellow local leaders of other religions in Norwich last night.
They discussed the importance of working together - and he's told us he believes the county's very good at doing that:
"The relationships between says the synagogues and the cathedrals are personal, they're profound, they're institutional and they're real.
"I think it's just transformative and very beautiful."
Reverend Welby also expressed his sadness at having to say goodbye to Norwich's Bishop Graham James.
The bishop has held the title since 2000 but has decided that it is time to retire after 42 years of priesthood.
He says his legacy will have a huge impact on the diocese going forward:
"Bishop Graham retiring is well earned - but it leaves the most enormous gap and very big shoes for his successor to step into.
"He's the most amazing man - and I'm very sorry he's retiring."
Throughout the Archbishop's time in Norwich yesterday, updates were posted on his social media pages.
Wonderful visit to @YMCANorfolk which supports young people in crisis – 70% of residents are here because of family breakdown. May Jesus Christ be with you in offering this vital support, and in helping these young people reconcile with their families @ymcatim https://t.co/gpWMI20Oi8

— Archbishop of Canterbury (@JustinWelby) November 7, 2018
Today he's visiting Caister Lifeboat Station to lead a special service - and this evening he'll be taking part in an event at Great Yarmouth Minster.