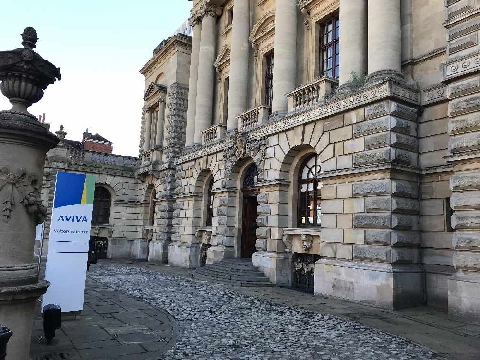 One of the company's offices on Surrey Street
Insurance giant Aviva, which employs around 5,200 people in Norwich, are planning on cutting nearly two thousand jobs over the next three years.
The firm say they need to make savings of £300 million a year by 2022.
In total 1,800 jobs will be lost, however it has not been confirmed where those redundancies will be made.
The company has a global workforce of 30,000 people, and a spokesperson for the firm has told us the reductions could be made at any of their sites.
A statement issued this morning said: "Aviva will look to ensure that redundancies are kept to a minimum wherever possible, for example through natural turnover.
"Aviva has engaged with Unite and our employee representative bodies and will continue to consult on specific proposals."
The company was created when Norwich Union and CGU merged in 2000. Nine years later the Norwich Union brand was ended, in favour of the global 'Aviva' name.
Maurice Tulloch, Chief Executive Officer, said: "Reducing Aviva's costs is essential to remain competitive and this means tough decisions and job losses which I do not take lightly. We will do all we can to minimise redundancies and support our people through this.
"I am also determined to crack Aviva's complexity, an issue which has held back our performance for too long. Today's changes will begin to reduce complexity, cost, and duplication, enabling Aviva to be better at serving our customers and delivering stronger results for our shareholders."
The firm have sites on the Broadland Business Park as well as on Surrey Street in Norwich City Centre.