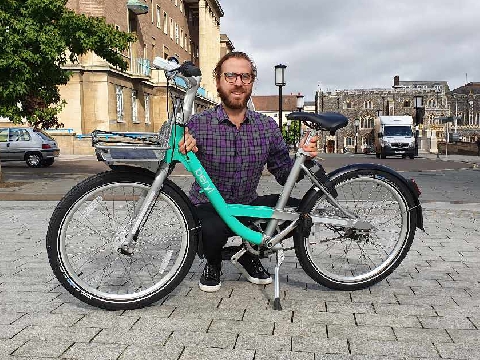 CEO Beryl - Phil Ellis
People in Norwich will soon have access to around 600 manual and electric Beryl bikes as part of a new bikeshare scheme launching in the city.
From next Spring, people will be able to collect and drop off the bikes from a number of hubs around the city.
Beryl is currently working with Norfolk County Council and Norwich City Council on the details of the scheme but the operating zones and parking hubs will be designed to help connect strategic locations, such as education and employment centres with residential areas and the city centre.
A survey's also been launched on Beryl's website where people can put forward suggestions for places for the hubs which will then be looked at by the council and local stakeholders.
Users will be able to pay for the bikes using an app on their phone.
Beryl has also announced that they've set aside funding to ensure lower income residents will also be able to get involved.
Councillor Martin Wilbym who's Norfolk County Council's chair of Transforming Cities Joint Committee, said: "Norwich is one of the country's leading cycling cities so it's fantastic that we're able to provide a new bike share service through our latest round of funding.
"Beryl offers a high-quality product and has a good track record.
"Their presence will give people more flexibility and choice around sustainable transport options, which ultimately helps us to reduce congestion and emissions while staying active and healthy in our day-to-day lives.
"I've no doubt the scheme will prove popular with both residents and visitors and look forward to welcoming the bikes to the city next Spring."
The Council's added that they hope having a bay-based system will help prevent issues like those experienced while Ofo bikes were available in the city previously.
That scheme allowed users to pick and drop-off bikes anywhere in the city with many ending up vandalised or abandoned.
Phil Ellis, who's the CEO of Beryl, said: "We are delighted to be providing a bike share service across Norwich that will enable more people to make everyday journeys using two wheels.
"It's a privilege to partner with Transport for Norwich who have shown a commitment to getting more people cycling and tackling the environmental and health challenges that come with our reliance on cars.
"We look forward to working with the residents of Norwich and visitors to the city, to transform Norwich into a city that moves smart, green and with ease."
In the video below Phil talks us through some of the safety features incorporated into the design of the Beryl bikes.
Councillor Mike Stonard, who's Norwich City Council's cabinet member for sustainable and inclusive growth, said: "One of the most striking things people tell us when we talk about the city and their vision for the future is that they want a full range of travel options, cleaner, cheaper and more efficient to get around.
"The numbers of people cycling in Norwich in the last five years is up 40 percent and continues to increase and, as the UK's first sharing city, we have a growing sharing economy - so we are delighted to be able to work with our partners to meet the demands of local people and the needs of the planet."
The scheme is being funded for an initial five-year period with £700,000 from Transforming Cities, with no costs allocated from local budgets.
It's one of six projects which received a total of £6.1m of funding through the first round of Transforming Cities funding.