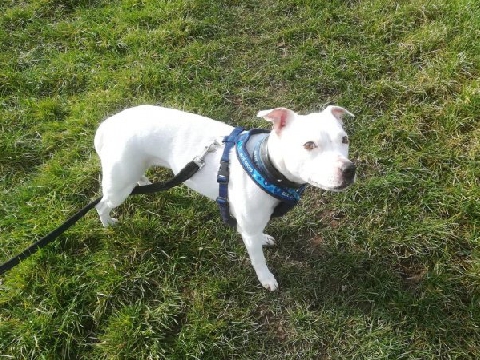 Kim - one of the dogs at their Wherstead centre - who could benefit from the garden.
The Blue Cross charity - who house and re-home dogs at their shelter in Wherstead - are appealing for our help to make their dream of a dog sensory garden possible.
They've helped over one thousand dogs find their forever homes after coming to the rescue centre, and they hope that a new garden at their home would mean the dogs find their new owners faster.
Tracey Salmon - who works for Blue Cross - explained that sensory stimuli can be good for all sorts of reasons, and for all different types of dogs.
She told us that's why they're planning on splitting the garden into three sections: "The first section will be for those dogs who are perhaps a bit worried about the big wide world and maybe need to start off with things like learning what different surfaces feel like under their feet".
This section of the garden will have sand and shingle pits so that dogs who've never been to the beach can experience the feeling, as well as cobbles so that the old streets of Suffolk don't frighten the dogs when their new owners take them for walks.
Tracey also outlined the further two sections: "The second section will be for dogs who have already explored some of the world but may need encouragement to be a bit more adventurous.
"Here we will be looking to introduce them to more uneven surfaces such as a wooden or log bridge or a tyred area which requires the dog to think about where he or she needs to place their feet.
"There will also be things for them to walk through, such as a ribbon tunnel.
"The third area will be for the adventurous dog – those that need extra stimulus. Here we can give dogs the scope to push through noodle walks, clamber over boulder paths and wobbly bridges and nip into a narrow gates, useful for those kissing gates on country walks".
Fifty RAF serviceman from Wattisham have pledged to carry out the manual labour and build the garden, so the charity are asking for the materials to allow this to happen as soon as possible.
The charity, which receives no government funding, is urging people to donate any of the following to help them complete the project.
· Digger (and Digger Operator)
· Play sand
· Bark
· Shingle (P Grade)
· Concrete (Quick Set)
· Cobblestone
· Cones
· Pallets
· Logs
· Top Soil
· Cable Drum Reels
· Ratchet Straps
· MDPE Pipe
· Swimming Pool Noodle
· Wood lengths
· Plastic bags
· Membrane
· Rope
· Chain
· Decking Screws
· Fence Posts
· Outdoor paint (white and blue)
If you can help provide any of the materials needed for the sensory garden then please contact the centre directly on 0300 777 1480 or by emailing Suffolk@bluecross.org.uk