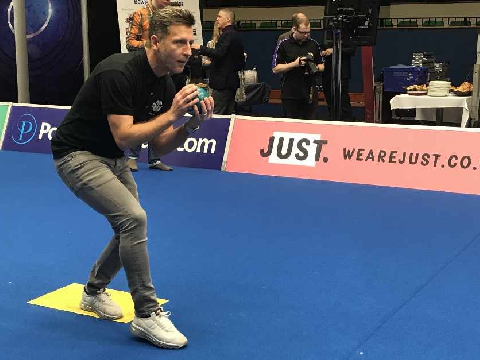 Darren Eadie, who made 204 appearances for the Canaries between 1992 and 1999, was given a bowls masterclass by the world number one ahead of the prestigious bowls competitions.
The World Indoor Bowls Championship 2019 begins today, 11th January, at the Potters Resort in Hopton and will conclude with the single's final on 27th January.
Greg Harlow, the current number one, taught the ex-midfielder the basics of playing bowls during a charity event yesterday, which involved practise sessions and a three-round match.
He was impressed with Darren's capabilities, he said: "I've done quite a few of these [events] over the years and Darren done as well as anybody else has."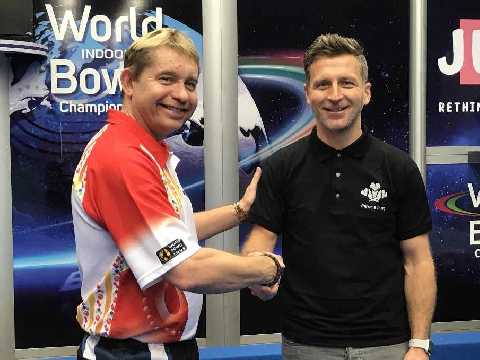 Greg Harlow and Darren Eadie
Greg continued: "He had very good control from the start, with a nice delivery action. If he decided to take up the sport I think he could become very good, I'm really impressed with him."
Darren, who secured 36 goals during his time at Norwich, said: "Having a background in football, and knowing the weight of pass, perhaps gives you a head start I guess. Greg's a great teacher, he was able to break the game down for me. I managed to get a few decent shots away, I really enjoyed it.
"I've stayed here [Potters] a few times with the family, so we might have to come down again and get the bowls out."

Darren wasn't sure whether it would be better to use his feet during the bowls masterclass
It's the 21st consecutive year that the holiday resort near the Norfolk and Suffolk coastal border has hosted the competition which attracts players from across the globe.
Four individual events will be spread across the 17 days, which include singles, pairs, ladies and mixed pair competitions.
Wayne Willgress, who knocked Greg Harlow out of last year's quarter finals, said: "Darren's a natural sportsman so it comes like second nature, he found it fairly easy. If he had a few more goes, I think he would be very handy."

Eadie says his ex-teammates should give bowls a try
The resort also runs a charitable company, Potters Friends Foundation, in memory of Brian Potter MBE, which supports worthy causes.
During the event, the resort presented The Prince's Trust with a cheque of £1,000 to help continue its work to help vulnerable young people get back on their feet.
Darren told us he's very fond of the resort: "It's a wonderful association to have, particularly for Norfolk, it's a very well ran family-business.
"It's hugely important to have Norfolk people running a very successful business in the county, especially when it brings in world attention with events like this."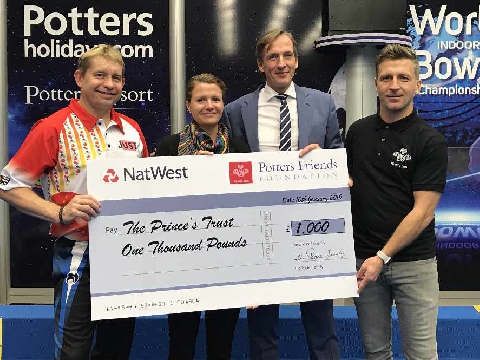 The Prince's Trust received £1,000 from the Potters Friends Foundation
For more information on the World Indoor Bowls Championship, including tickets, visit their website.