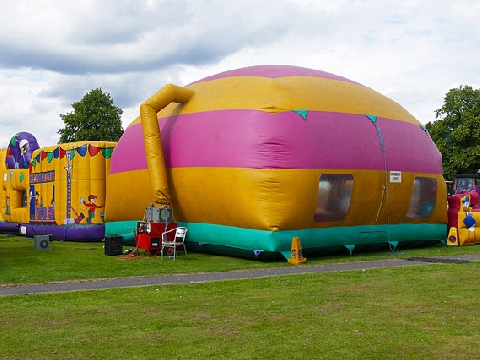 Note: This is not the inflatable used in the Gorleston incident
Authorities in East Suffolk are urging anyone who owns or is hiring inflatable play equipment, to make sure it's up to British Standards.
It's after a 3-year-old girl was killed when an inflatable trampoline exploded on Gorleston beach at the start of the month.
In a joint statement from Suffolk Coastal and Waveney District Councils, the authorities have issued advice on using the equipment.
Councillor Steve Gallant, Suffolk Coastal's Cabinet Member for Community Health and Councillor Mary Rudd, Waveney District Council's Cabinet Member for Community Health and Safety said: "Inflatables are great fun but accidents can occur.
"We urge anyone buying, operating or hiring bouncy castles and other inflatables to check that the equipment meets current British Standards and ensure that basic safety checks are carried out so that everyone has a safe and enjoyable time."
The councils are now telling buyers, hirers and users to make sure they know what they are paying for and even those hiring inflatable equipment for a one-off event such as a birthday party should be aware of the safety advice:
- If you are buying an inflatable or hiring one for an event, always make sure it has been built to the current British Standard (BS EN 14960). If it has, there will be a label indicating this. If you cannot see this label, then do not buy or hire the equipment as you may be risking the safety of others.
- The label will tell you when the equipment was made, how many people can use it and what heights they should be.
- Every inflatable should have at least 6 anchor points, though larger equipment will need more. An operator manual should be supplied with the inflatable and this will advise how many anchor points there should be. BS EN 14960 also provides more information on calculating anchor point requirements.
- All the anchor points must be used, preferably with metal ground stakes at least 380mm in length and 16mm in diameter, with a rounded top. Anchor points on the inflatable should have a welded metal '0' or 'D' ring fitted to the end. If ground stakes cannot be used then a system of ballast using water or sand barrels or tying down to vehicles that will give at least the same level of protection should be used. Each anchor point should have the equivalent of 163kgs to give this. Beware of tripping hazards if you secure in this way.
- There have been serious incidents where occupied inflatables have blown away due to being improperly secured in windy conditions. You should have the means to monitor the wind speed at all times whilst the equipment is inflated. BS EN 14960 recommends that the maximum wind speed in which inflatable play equipment should be used outdoors is 38 km/h which is Force 5 on the Beaufort Scale (small trees in leaf begin to sway). The best way to measure this is by using an anemometer.
There also urging users to check:
- The site is suitable;
- All anchorages are secure and in place;
- Ancillary equipment is in position (e.g. impact-absorbing mats);
- There are no significant holes or rips in the fabric or seams;
- The correct blower is being used;
- The internal air pressure is sufficient to give a firm and reliable footing;
- There are no exposed electrical parts and no wear on cables; plugs, sockets, switches, etc. are not damaged;
- The connection tube and blower are firmly attached to each other;
- The outer edges of the front step are in line with the centre of each of the front uprights. Under no circumstances should the width of the step be less than this. The whole unit should look symmetrical and those bits that should upright, should be upright. If it looks misshapen or deformed there may be internal problems which may make bouncing unpredictable.
- If there is an electrical blower with the inflatable this must also be tested at regular intervals. The law requires electrical equipment to be maintained to prevent danger. The type and frequency of user checks, inspections and testing needed will depend on the equipment, the environment in which it is used and the results of previous checks.
Further guidance on inflatable play equipment can be found at www.hse.gov.uk/entertainment/fairgrounds/inflatables.htm