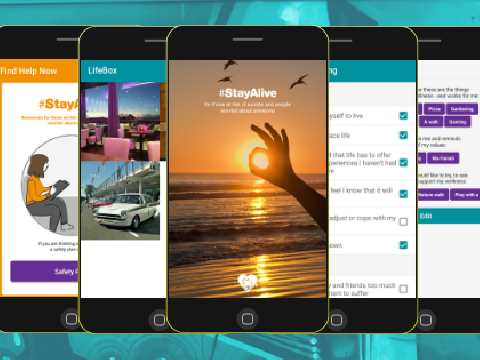 The new Stay Alive App from Norfolk County Council is a pocket suicide prevention resource for the county, packed full of useful information and tools to help you stay safe in crisis.
The council's Public Health Team have launched this as part of its suicide prevention campaign.
Chair of Norfolk County Council, Communities Committee, Cllr Margaret Dewsbury said "this app is a lifeline for somebody who may be considering ending their own life. It's also very useful if you are concerned about someone else who may be considering suicide.
"It's simple to use, and importantly will put you in touch instantly with local support organisations. It contains practical self-help ideas, a safety plan as well as a LifeBox where you can store photos and memories that are important to you.
It has been successfully used across other areas in the UK and we sincerely hope it will be a useful tool for people in our region who are in immediate need of support".
Dr Richard Gorrod, retired GP and Vice Chairman of Norwich Mind said "every suicide is a tragedy for the individual, the family and friends left behind and the whole of society.
"Many people who die by suicide withdraw from help offered but many of us have a smart phone. I welcome different approaches to this very challenging problem. This app while not going to stop all suicide by itself is a very positive and helpful initiative and has my full backing".
The Stay Alive app is completely free and can be downloaded via App store and Google Play.
Once downloaded, you will then be able to access support from local organisations in Norfolk and Waveney simply by selecting the relevant region.
For more information about the resources available to those at risk of suicide visit www.norfolk.gov.uk/iamokay
The stay alive app contains the following features
Import safety contacts - including for Norfolk - who can help if you are having thoughts of suicide, direct from your device.
Create your own Wellness Plan for your recovery. A place for your positive thoughts, inspirations, and ideas.
Equal breathing exercises to distract you from negative thoughts and help you stay calm.
Quick access to UK national crisis support helplines
Quick access to local crisis services in Norfolk and Waveney.
A mini-safety plan that can be filled out by a person considering suicide
A LifeBox to which the user can upload photos from their phone reminding them of their reasons to stay alive
Safety contacts page
Strategies for staying safe from suicide
How to help a person thinking about suicide
Wellness Plan for your recovery, a place for your positive thoughts, inspirations and ideas.
Suicide myth-busting
Research-based reasons for living
Online support services and other helpful apps
Suicide bereavement resources