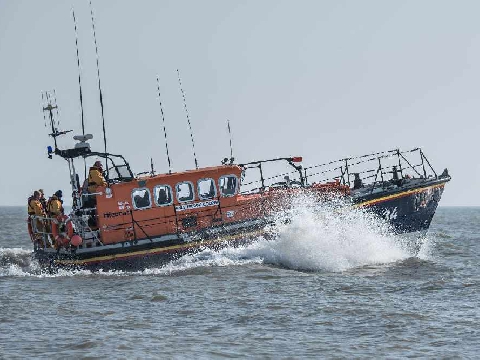 A personal locator beacon (PLB) helped Aldeburgh Lifeboat crews save a kitesurfer's life last week.
The inshore lifeboat and all-weather lifeboat were launched on the evening of the 30th July, after the surfer fell off his board and became separated from it.
He then activated his PLB which sent an alert to the coastguard, who then informed the Aldeburgh RNLI station.
The lifeboat crew arrived on the scene within 45 minutes, and were able to find the casualty in the dark because of the strobe light on the PLB.
Karl Barber, Aldeburgh's second coxswain, said: 'If it wasn't for the personal locator beacon showing up on the lifeboat's automatic identification system, the kitesurfer would have been very difficult to see in the water. It was dark and there was a real risk of not immediately finding him.
"The kitesurfer shared that his mother persuaded him to buy the personal locator beacon, the best £200 he has ever spent. It helped save his life."
The success of the PLB has led to calls for more sailors and water sports enthusiasts to take one out with them.
Nick Ayers, RNLI Community Safety Partner, said: 'The sea is unpredictable and one of the biggest dangers with kitesurfing is going alone or in rough weather conditions.
"We advise kite surfers go out with a friend or take a means of calling or signalling for help, like a PLB.
"Never ride out further than you can swim back. Be prepared, check the conditions and tides, and don't go out in conditions you can't handle."
The crew pulled the kitesurfer on board the lifeboat and returned him to shore where he was transported to hospital, finally standing down at 10.40pm.