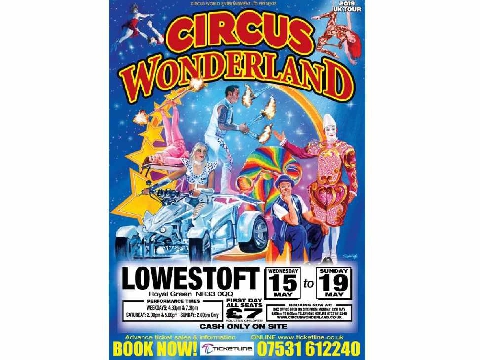 The circus is in Lowestoft until the 19th May (Circus Wonderland).
The directors of a popular travelling circus have warned this may be their last year in Lowestoft due to an increase in land fees.
They said they had contact with East Suffolk Council last week who informed them their rent would rise to more than £4,000, almost double the usual costs.
However, the council then told them their rent would only increase by £750 in 2021, but the organisers believes it may still be too much to return to the town.
Director Paul Carpenter said: "Even an increase of £750 makes the proposed price more than we pay for any of our other site across the UK.
"When we come to Lowestoft we're never sold out, we do reasonably well but I think the council thinks we've got a money-printing machine here.
"Our expenses are enormous, people don't realise how much we're paying out, but at the same time we're trying to keep our ticket prices as low and affordable as we can so people can come and see us.
"We just can't carry on with prices going up without increasing our admission costs. We love being in Lowestoft, we enjoy being here every year and we've got a great local following.
"I'm happy to keep paying what we pay, but even a rise of £750 is a lot of candy floss and hot dogs to find that money. It's just something we cannot do."
The standard amount of rent for the Royal Green for the time the circus is there is around £2,900, but the increase will see it raise to around £3,650.
A spokesperson for East Suffolk Council said: "It is not the case that the Council is doubling the charge for Circus Wonderland and we have now explained this to their representatives.
"Unfortunately, a combination of poorly-worded communication and a slight miscalculation regarding the revised cost has caused some confusion and we have now clarified the situation."
They explained that the council reviewed the rates of land hire for events throughout the district for events of this size, and it remains the normal price of £600 per day.
They continued: "The change we have introduced, however, is to standardise 'set up' and 'break down' days and now, across the board, we charge 50% of a standard daily rate on these days.
"Given that event production teams are obviously occupying the land on these days, we believe this is a reasonable figure."
This year however, the Circus Wonderland have had to pay a smaller sum of £2,150, which the council described as a "goodwill" to the circus so that this year and next year remains the same price on average.
They concluded: "Additionally, a slight miscalculation in the charge for next year was sent in error to Circus Wonderland but this has also now been explained.
"We hope that this fantastic and popular annual event will now continue to entertain audiences in Lowestoft for many more years to come."
The circus is on until Sunday 19th May, with weekday shows at 4.30pm and 7.30pm. Saturday shows are on at 2pm and 5pm, and Sunday at 2pm.