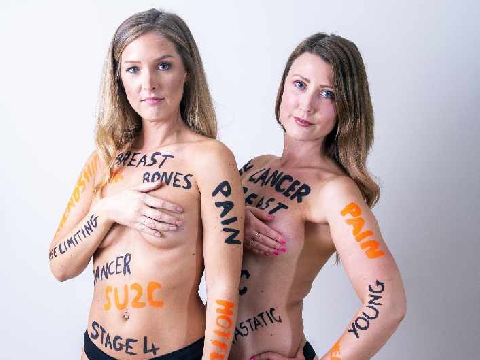 Laura Middleton-Hughes and Nicky Newman - Secondary Sisters
Secondary Sisters has been launched to try and raise awareness of what secondary cancers are while offering a place of support for people with the diagnosis.
Laura Middleton-Hughes from Norwich and Nicky Newman from Guildford are the brains behind the support group which is based online.
The women met earlier this year and bonded over their similar diagnoses - they both have incurable secondary breast cancer.
The aim of Secondary Sisters is not just to offer support for people with cancer but also raise awareness of what secondary cancers are.
'Secondaries' are cancer cells which have spread from their original tumour to other parts of the body.
The pair hope that their upbeat online community will 'fill a gap in the market' for people in their position.
Nicky said: "We want to offer information, hope and basically a bit of fun.
"There are tough times, of course, and we don't shy away from that.
"But our focus is on living your life and living it well."
Laura added: "Secondary Sisters gives us both a positive, therapeutic way of talking about our cancer.
"We don't just want it to be about dealing with secondary cancer, which can be quite dark.
"We want it to be a collaboration between us and other people.
"We both potentially face a very bumpy future, but we do have a future and we are going to live it!"
Laura's Story:
Laura was diagnosed with breast cancer in April 2014 after finding a lump in her breast while on a dream holiday to Australia.
She underwent a mastectomy and chemotherapy, recovered well and returned to an active life.
But in April 2016, she began to feel pain in her right shoulder.
She eventually went to the GP after originally putting the pain down to over training for an upcoming charity trek.
After going through physiotherapy her shoulder continued to deterioate and she was referred for a scan.
Doctors found a fracture but also 'something suspicious' which turned out tobe a tumour that had overtaken the head of the humerus - the long bone in the arm.
Laura said: "I didn't know at that point if it had spread anywhere else but immediately I feared it had and I had only weeks to live.
"It was terrifying."
Thankfully, a full body scan revealed it hadn't spread to any of Laura's organs.
She underwent a shoulder replacement and then started chemotherapy again.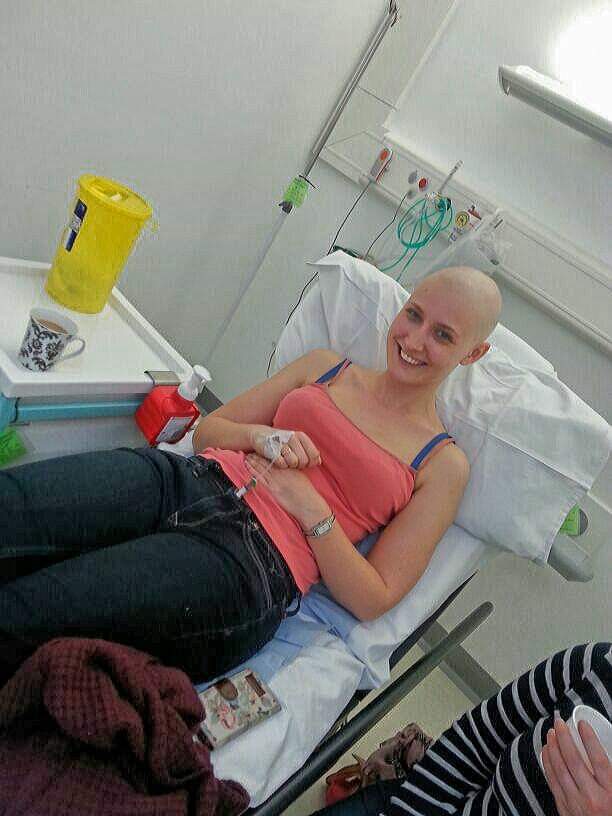 Laura during her treatment
Laura said: "2016 was a rubbish year, a really rubbish year."
Traces of cancer have also been detected in her spine, 12 vertebrae and pelvis but they are stable.
She added: "I'm very, very grateful that the treatment I'm having is managing to give me a fairly normal life."
Laura had to give her job as a hairdresser but in April this year she got married and shortly afterwards met Nicky.
Nicky's Story:
Two years ago, Nicky and husband Alex were desperate for a baby.
After trying for a year, they started IVF but about halfway through Nicky noticed a lump on her right breast.
She said: "I've always been a 'lumpy' person so I wasn't worried.
"I talked to the IVF nurse and she said it was probably just a side-effect of the treatment.
"But a week later, there was an indentation in the breast and the nipple had gone in.
"I called the nurse again and she told me not to worry.
"But I decided to go with my gut instinct and went to the doctor who fast-tracked me for extensive tests.
"Before the word cancer was even mentioned, I could see it in the doctor's face.
"My first question was 'What's going to happen to my eggs?'
"At that point, the most important thing to me was having a child.
"They told me not to panic."
During her tests, Nicky also mentioned she had been suffering with back pains, so she was also referred for specialist imaging.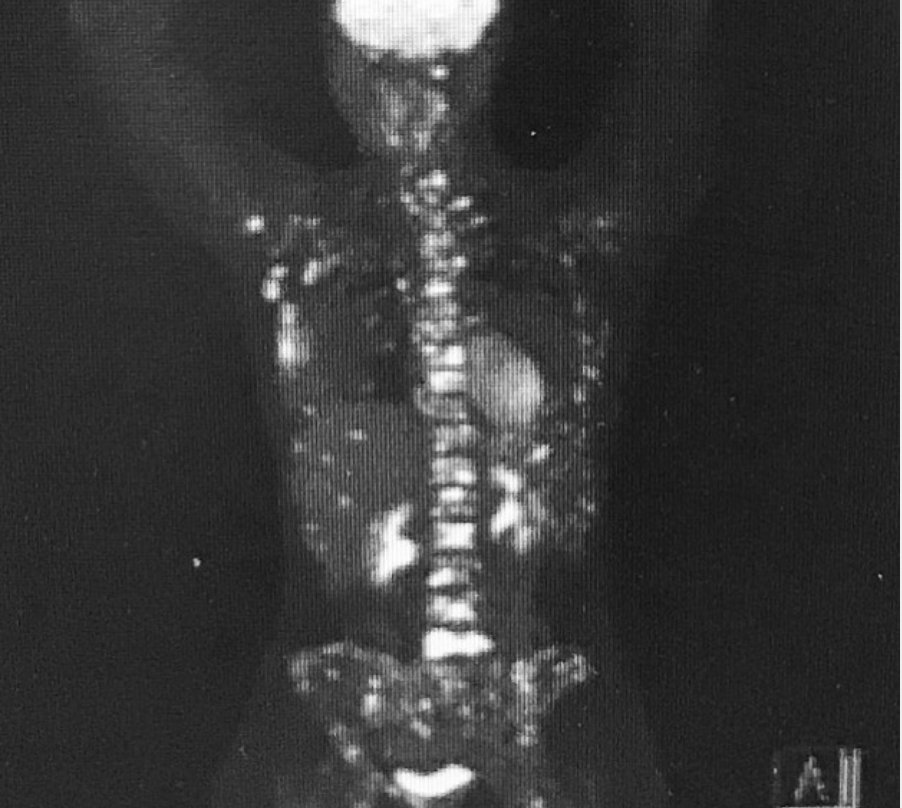 Nicky's X-Ray - the white marks are 'secondaries' from her breast cancer
A week later, she was called back.
"The surgeon said to me: 'I'm really sorry, there's nothing I can do.'
"It was terrifying.
"What she was trying to say was there was nothing she could do as a surgeon - I had stage 4 breast cancer which had spread.
"But it sent me into a blind panic.
"I didn't know if I was going to live or die.
"The whole thing was an absolute blur.
"Apparently I just cried, although I don't even remember.
"I don't think I was mentally stable apart from anything else."
Nicky needed heavy medication to control the pain and temporarily, lost the ability to walk.
However, there was some good news.
The drug she needed for her type of breast cancer had only been approved for NHS use in January that year.
"My oncologist told that was a game-changer.
"If it hadn't been approved, my prognosis would have been very different.
"When I left hospital, I was grieving more the fact that I had lost my chance to be a mother, than because I had cancer.
"It was only six months down the line that I could finally say: 'Oh my God, I have incurable cancer.'
"Then I had to grieve again for the life I thought I would have, or should have had."

You can find the Secondary Sisters on Instagram and YouTube where they'll be sharing their stories and raising awareness of secondary breast cancer.